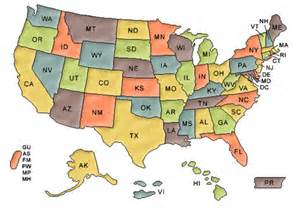 How to File for Divorce in the United States of America (USA), with or without children, utilizing online state-specific divorce papers, printable marital settlement agreement forms, downloadable sample legal documents, divorce laws, and professional advice. Husbands and wives "Filing for Divorce in the USA", without a lawyer, can utilize an easy, "do-it-yourself", and 3-step online divorce software package to ensure a favorable and successful outcome. The divorce, separation, or dissolution of marriage process doesn't have to be expensive, time-consuming, and filled with anger, anxiety, fear, or regret. The proper legal advice, support, guidance, and strategies will ensure the most favorable outcome while minimizing any stress and expense.
Each states family law provides couples the ability to complete an uncontested no-fault or at-fault divorce without the need for an expensive collaborative divorce attorney, lawyer, mediator, or court trial litigation process. The agreed upon, completed, and signed forms must be submitted to the courts for approval. The court approval process ensures that all the different aspects of the marital or divorce settlement agreement are enclosed and properly addressed. It also ensures that no state-specific family laws or divorce laws are broken; protecting the legal rights of husbands, wives, men, women, and any children. The different aspects of a divorce, that need to be settled, can often include the allocation of property, assets, debts, spousal support, child custody, child visitation, and child support.
Filing for Divorce as Uncontested No-Fault, With or Without Children, Provides an Easy, DIY, Private, and Affordable Option Without the Expense of a Lawyer, Mediator, or Court Trial Litigation.
Most divorces in the United States are filed as uncontested No-Fault with the intentions of minimizing the stress, expense, and time frame required to complete the dissolution of marriage process. The other option is contested At-Fault based divorces, which are typically filed with hopes of altering a traditional or expected divorce outcome based on the marital misconduct of the other spouse throughout the marriage. Some common examples of At-Fault based marital misconduct include adultery, abandonment, neglect, and abuse.
It's important to recognize, both No-Fault and At-Fault based divorces can be contested or uncontested. However, divorce statistics show that most At-Fault based divorces generally end up being contested due to the premise of assessing marital fault, often with hopes of altering a traditional or expected settlement outcome. No-Fault divorces are generally uncontested, which means both parties are able to reach a marital settlement agreement without the need to have any disputes resolved in court.
Overloading the court system with contested At-Fault divorces by trying to justify, determine, and award a judgement based on marital fault deemed to be a counter-productive process for couples, children, society, and each states court system. As a result, the No-Fault divorce process has been adopted in all 50 states over the last 60 years.
It's interesting to note, No-Fault divorces were first adopted in the early 1950's in Oklahoma, but didn't gain wide recognition until 1969 when California adopted the same divorce process. New York was the last state to adopt a full No-Fault divorce process in 2010. Each state's family law eventually recognized that marriage is more of an emotional contract leaving the legally binding marriage license subject to an unfortunate, and all to often, termination.
Contested divorces will typically cost several thousand dollars, with often several months or even years before the divorce is completed. However, UNCONTESTED divorces DO NOT require an expensive lawyer, mediator, or court trial litigation, and will cost far less than any contested divorce process. I encourage everyone to file, WITHOUT A LAWYER, for an UNCONTESTED NO-FAULT DIVORCE and avoid the agonizing stress, overwhelming expense, lengthy time frame, and court trial litigation required to complete any type of contested divorce in the United States of America.
How to File for Divorce as Uncontested No-Fault, Utilizing an Easy, Do-It-Yourself, Affordable, and Online Questions Based Software Package Without the Expense of a Lawyer, Mediator, Litigation, or Court Trial.
Filing an uncontested No-Fault divorce petition is the first step in the United States. These divorce papers, marital settlement agreement forms, and legal documents require the couple designate a grounds for divorce. Legally accepted No-Fault "grounds for divorce" (aka reason for divorce) are common options such as irreconcilable differences, irretrievable breakdown of marriage, incompatibility, or by designating a period of time the couple has lived apart.
Completion of the divorce petition involves the negotiation of all terms required to finalize the divorce. Negotiated terms of the petition can include division of property, assets, debts, child custody, child visitation, child support, and any possible alimony. Upon completion, both parties essentially authorize a marital settlement agreement. This settlement agreement must be signed, notarized, and submitted to the courts. The spouse filing the divorce papers (aka petitioner) is responsible for serving the divorce papers to the other spouse (aka respondent). Once the respondent has been served, they have a designated period of time to respond to the courts.
The courts will then schedule a hearing which gives a judge the opportunity to review the petition to ensure no laws are broken, and the legal rights of both spouses and the "best interests" of any children are protected. The judges approval will finalize the divorce. A certificate of divorce (aka divorce decree) will be issued and submitted to any required state and federal agencies such as the Bureau of Statistics.
The link below provides access to a software package that provides the guidance and structure both husbands and wives need to help facilitate the entire divorce process. It gives men and women the confidence to negotiate the terms of the divorce and represent their best interests. It essentially eliminates the uncertainty and stress that all to often leads to a deadlock in the negotiation process. Divorce papers alone, WITHOUT Any Guidance, have proven to cause Disastrous Results often leading to a deadlock in the divorce process; creating much unneeded stress, uncertainty, hostility, anger, and resentment. The software package in the link below, provides guidance and facilitates the process in a manner that minimizes the negotiation time frame by providing a very structured question and answer format with in-depth explanations and extensive step-by-step filing instructions. When considering what an attorney charges per hour, couples are able to save hundreds, even thousands of dollars, and complete the entire divorce process in the privacy of their own home without having to hire an attorney.
(For Divorces With or Without Children) Click Here :-) and "CHOOSE YOUR STATE" For Access to a State-Specific Divorce Software Package That Provides an Easy, Do-It-Yourself, and Complete Divorce Solution. It utilizes a question and answer format with IN-DEPTH Explanations and EXTENSIVE Step-By-Step Filing Instructions. This is the Most Comprehensive Divorce Software Service available and comes with a Money Back Guarantee. Don't forget, it also provides Professional Customer Support, all the necessary Paperwork, access to Legal Wills, Last Name Change Guide, Divorce Laws, and Access to Downloadable Divorce Books and Manuals.
(For Divorces With Children) Click Here :-) to Conveniently Create your Own Professional Quality Parenting Plan Agreement (aka Child Custody Agreement), Visitation Schedule, Visitation Calendar, Expense Reports, and MUCH MORE to Track Actual Parenting Time-Expenses, Save $$$… on Attorney Fees, Spend Less Time in Court, and More Time with your Children. Make Sure to Check Out the "SEE HOW IT WORKS" Video!
(For Divorces With Children) Click Here :-) for a Child Custody Library containing State-Specific CHILD CUSTODY LAWS, VISITATION RIGHTS, and SUPPORT LAWS; GRANDPARENTS RIGHTS MANUAL; All the Necessary Legal Forms-Paperwork; and Numerous Publications from Experts in the Industry for All your Custody Needs
Generally speaking, the core bond in marriage is an emotional bond. When this emotional bond is broken, it typically creates feelings of sadness, hurt, insecurity, anger, and resentment often leading couples on an emotional roller coaster. Don't make the divorce process any more difficult or stressful than it needs to be. Learn to separate your emotional feelings from your logical thought process, and represent yourself with maturity and dignity. Just remember, your divorce doesn't have to be a battle, fight, or game where you either win or lose. "Filing for Divorce" needs to be a process filled with negotiation and compromise by both parties!
It's equally important to recognize that, learning "How to File for Divorce" doesn't have to be an intimidating and time-consuming process filled with anxiety, frustration, hostilities, or an argumentative negotiating environment.
The software package referenced in the link above, provides a question and answer format along with In-Depth explanations, Extensive step-by-step filing instructions and customer support for all the required divorce papers, marital settlement agreement forms, legal documents, and state-specific divorce laws. It not only simplifies the entire process, but also ensures all the different aspects of the divorce are properly addressed, ensuring a favorable and successful outcome, so you can make your divorce "Part of Your Past" instead of a "Problem for Your Future"!